As we never tire of saying around here, a photo isn't a photo until it has been printed. For portrait and wedding photographers, albums and wall art remain the backbone of their offerings, but there's plenty of product development and innovation occurring in these two mainstays. We have the answers to which print products should be on a photographer's radar.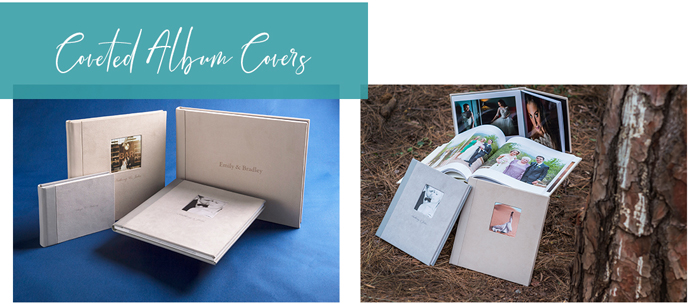 Our Designer Albums remain the ultimate wedding albums, and with the classy Storyteller range with a suede cover is all about one thing: touch. The smooth feel of suede and natural look gives a perfect mix of modern and vintage blends to give an extremely high- quality product. With a variety of paper choices, namely Matt, Gloss, Silk, Metallic or Velvet/Fine Art paper, the character of this range speaks volumes in terms of enduring sophistication and class.

Stunning and indulgent, the Designer Album Destiny & Elite Litho Enchanted range combines the natural beauty of Birchwood with innovative printing technology to create an inspirational cover that will present your photography on a whole new level. This range is made from Birchwood ply, a high-quality material that will not warp or buckle over time. It also allows for truly beautiful printing directly on the wood surface in full colour or black and white or with a sophisticated engraving finish.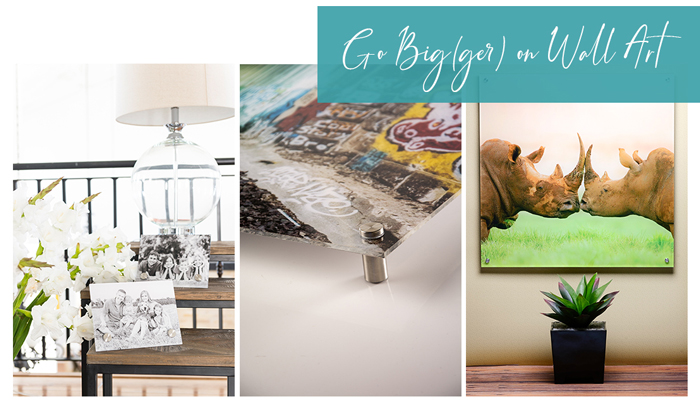 EYES ON ACRYLIC
There's more than one way to cover a wide swath of wall real estate. With our acrylic wall art prints, this is designed to help photographers "tell a story" in a unique and spectacular way. There has been a growing interest in acrylic glass-mounted prints and we can really see why.
Acrylic prints are also known as Perspex prints. They have a very contemporary high-gloss, modern finish that is perfect for home and office interior decorating. Your photos are printed in high resolution onto a long-lasting polymeric film, and then reverse mounted to a 6mm optically clear acrylic sheet. A white polymeric film backing provides the colours the ability to attain amazing colour brilliance, contrast and depth that are created with acrylic glass. Creating a magnificent 3D-effect.
We use 4, 20mm stainless steel mounting posts and pre-drill holes into the corners. You simply attach the posts to your wall, then attach your acrylic print to the posts.
These clean and modern hanging methods make your prints float off your walls to highlight your art and not what is holding it up.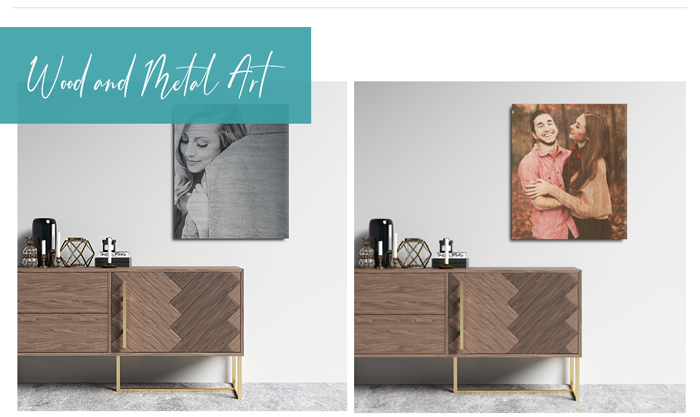 WOOD AND METAL ART
The wooden look has an incredibly distinct look which consumers cannot find when printing images on their own, so it truly is a way for photographers to stand out and provide your clients with something they cannot get elsewhere. Along with it's unique appearance, wooden art prints produce a beautiful light grained texture to photographs with a vintage, all-natural feeling which beautifully translates into authentic art.
Wall art needn't be confined to interiors, either. There has been a rise in demand for metal print products that are designed for outdoor use. It's easy to clean and perfect for use as outdoor art, photography, signage and display. A metal print is estimated to last a minimum of two to three years in direct sunlight without noticeable fading, which is more than we can say for a few sun-worshippers we know.